Animate your events with a Photobooth !
Photobooth rental in Belgium
An event without taking photos is not a successful event ! So, having a photobooth for all your private, public or professional events is the guarantee of a nice animation with smiles and memories without missing a beat. The sharing of unique moments between guests is the result of a successful event ! Let the party begin with FaceBox !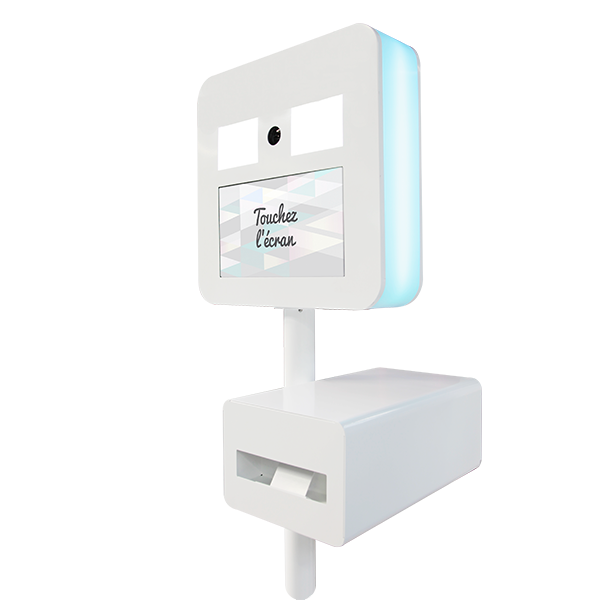 Easy to use
Easy to use and self-learning, the selfiebooth is made so that every generation can enjoy it.
100% customizable
All the features included with the rental of the photo box can be personalized! Printing, format, LED, front/back side of the box,...
Share
With the FaceBox, it is possible to share all the photos taken during the event on social media and/or by email instantly.
Fun
Having a photobooth for your event is the guarantee of hours of fun, memories and laughter with the people you love.
A photobooth for each of your events
Rent a photobooth for your event and offer original entertainment to your guests
Wedding
Capture the most beautiful day of your life with photos surrounded by your closest family and friends. Indoors or outdoors, the photobooth will blend in perfectly with your location.
Birthday party
18, 25, 30, 50 or 80 years old, there is no age to create visual memories with instant prints. You can make a great birthday album with photos of the people you love.
Corporate party
Do you want to strengthen the team spirit that reigns within your company ? What could be better than doing it with a photobooth and pulling the craziest faces with your colleagues !
Baby Shower
The arrival of a baby to celebrate ? The photo machine will take pictures of the people who are dear to you before baby arrives in order to keep great memories of them and to be able to explain to him why you had that hair color at the time...
Communion
One more step to immortalize in your child's life ? Don't forget to keep dozens or hundreds of photos so that these memories don't just stay in your hearts but also in a beautiful album or stuck on your fridge.
Fairsand exhibitions
Do you want to animate your stand at a fair or trade show ? The selfie booth will be the ideal tool to attract visitors to your stand and to create a note of attention for your brand with potential customers.
FaceBox features
What FaceBox offers you :
High resolution

camera

Personalization

of the decor of the prints

Unlimited

photos
Instant

prints

(200, 400 and more)
Sharing on

social networks

Combination of different

formats

High quality

photo paper
Customizable

screen saver

Fun

accessories

Online

photo gallery

Hours of

fun

and

great memories

We

deliver, install and pack up

And other little extras !
A DJ to liven up your dance party ?
Are you also looking for a DJ with, or without, sound and light equipment animates your dance party, in Brussels, Walloon Brabant or Flemish Brabant ? Whether it's a wedding, a company party, a birthday,... trust DJ Events and entrust the animation of it to professionals.
Discover DJ Events
Hundreds of satisfied FaceBox customers
The latest reviews of our clients
Super service de qualité ! Je recommande à 100%
Par Virginie G., le 28/09/2023
Tout était parfait ! Service de qualité, gentillesse, professionnalisme. [...]Livraison et reprise du photobooth sur place parfaitement à l'heure. Matériel et photos d'une excellente qualité ! Merci à l'équipe FACEBOX Je recommande vivement !
Par Marc G., le 28/08/2023
Nous avons loué le Photo Booth pour notre journée de mariage. Ça a été l'attraction [...]de la journée! Les gens ont adoré! Merci à l'équipe FaceBox Belgium pour leur professionnalisme et leur support sans faille!
Par Thomas, le 31/07/2023
Je tenais à vous remercier car tout était parfait. La mise en place de l'appareil [...]la reprise le prix, la deco sur les photos. Super idée pour notre mariage on nous avons été félicité. J'avais laissé un livre Vierge à disposition des marqueurs et de la colle et mes invitées nous ont confectionné un super livre de mariage. Merci beaucoup evy
Par Aurelie M., le 12/05/2023
FaceBox Belgium - Photobooth is rated 5/5 by 24 people